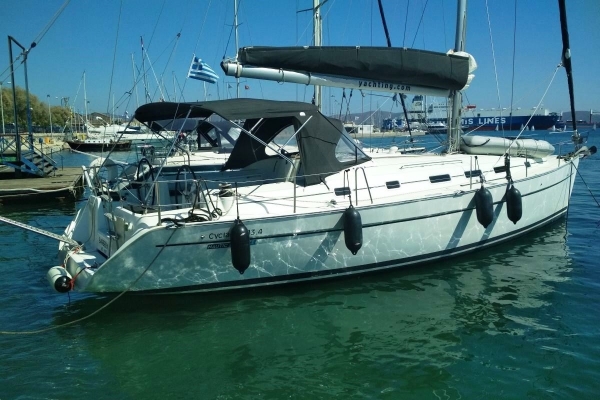 Bareboat Charter - Crew of 7 from Israel - 1 week from Volos in Sept/Oct 2021
All Hi, I would like to thank Philip and George for the lovely experience on chartering the Cyclades 434 on oct 2021. At first we were challenged by the corona virus, we asked to postpone the charter by a year and even change the yacht – Philip was 100% supportive at every request. Finely we got to the yacht and met with George, George as a lovely person supportive and understandable , the yacht was fully equipped (we even got WiFi on board) Well maintained spacious & clean. The guidance for the rout was exactly what we needed Thanks again for the great experience. I strongly recommend this team (compared with other charters I have been at)
Notes: Thank you very much for this excellent review we are very happy it all worked out OK after rescheduling from 2020 to 2021 and upgrading your yacht. Thank you for booking with us and we are glad you enjoyed your holiday and look forward to welcoming you back to again another time.

Bareboat Charter - Crew of 6 from Russia - 1 week from Volos in September 2021
Hi Philip! We had a terrific vacation. Dimitrios was very helpful and there were no problems with check-in and check-out. We liked the Dufour 43. It's roomy and had everything we needed. Electric WCs and bow thruster are nice additions in recent renovations. It also handles great both when sailing and motoring. For the price it's definitely a great deal. And thanks for all the support for visa documents.
Notes: Thank you all for making this trip, it was a pleasure to organise and excellent you had a good time in the Dufour 43. Dimitrios is a great guy and I will pass on your comments. Good feedback on the yacht thank you, these older yachts are traditionally and solidly built and when maintained well a lot of fun. We hope to welcome you back again in 2022 :-)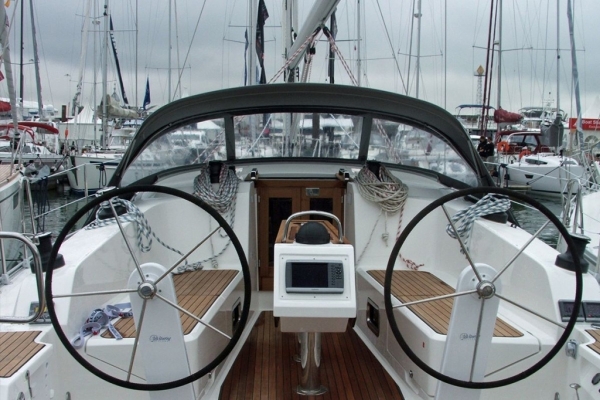 Bareboat Charter - Crew of 4 from UK - 2 weeks from Volos in September 2021
Boat was well prepared with on the whole good equipment. Good sails and really excellent engine. Plenty of linen and towels for our two week cruise. Some smaller side plates would have been useful and we did have to purchase coffee mugs as none were provided. This was the same boat as we have had the past two years and this was probably one of the best. Petros was very helpful and was needed when the anchor would not deploy. We had to empty the chain into the forward cabin and then repack in the anchor locker as it had become jammed. Otherwise a fine trip.
Notes: Thank you for making this trip I bet it was good to finally get away and for 2 weeks too. This Bavaria Cruiser 41 is maintained in excellent condition but clearly we need to check the kitched stuff. I am glad Petros could help with the anchor, these things happen sometimes but we have tech. support all over the islands if required. I hope we can welcome you back again next year, till then please take care.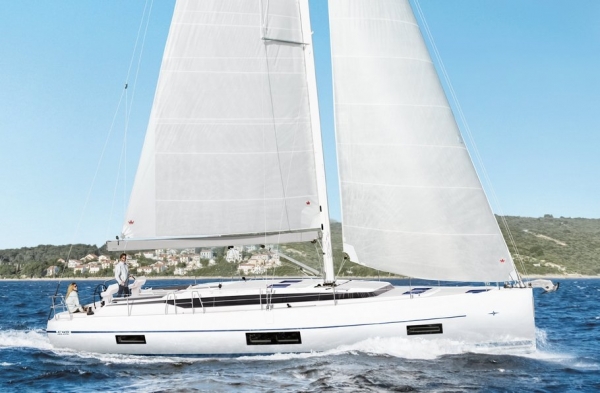 Bareboat Charter - Crew of 8 from Germany - 1 week from Volos in September 2021
Our trip to Volos went very well, it was another wonderful sailing trip. A big thank you to you and MIXit Sailing for the smooth and professional handling of the booking ! Your local colleagues were very friendly and helpful, especially your friend Petros. The takeover and return of the Bavaria C45 went without a hitch. Unfortunately, the wind conditions were a bit modest during the week, so we were only able to sail properly on one day. But that's the way it is with sailing, you just make the best of it! The C45 is also a great boat. There is enough space on board for 8 people. I would especially like to mention the kitchenette with the large refrigerators. This is simply a great solution. There is also plenty of storage space. The boat is also very easy to sail, which is even easier with the self-tacking jib. However, we had to realise that a few more square metres of sail would be better :-)
Notes: Thank you very much for yor feedback, we look forward to welcoming you back another time.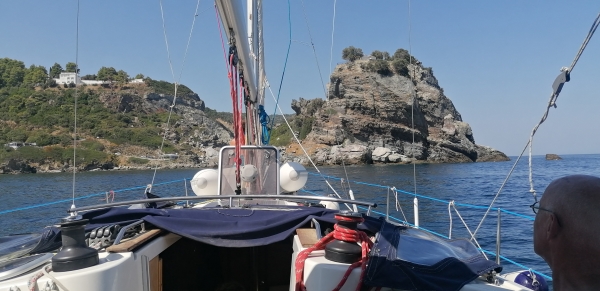 Bareboat Charter - Crew of 4 from Holland - 2 weeks from Skiathos in September 2021
We sailed for 2 wonderful weeks with the jeanneau Sun Odyssey 39.i. The area near the Sporades is fantastically beautiful and still relatively quiet. During the holiday it turned out that the on-board batteries were not working properly. These were replaced by new ones on Skopelos without any problem. The boat was also technically well equipped and has good sailing characteristics. Communication with Mixit Sailings was excellent and clear. We can recommend everyone to rent a sailing yacht through them.
Notes: Thank you for this excellent review, I will pass on to the base crew. I am glad you enjoyed your 2 weeks in the Sporades and sorry about the battery problem and pleased we managed to sort this out quickly. Many thanks to you for this booking and I hope to be able to welcome you back again sometime. I the meantime please take care and best wishes to all.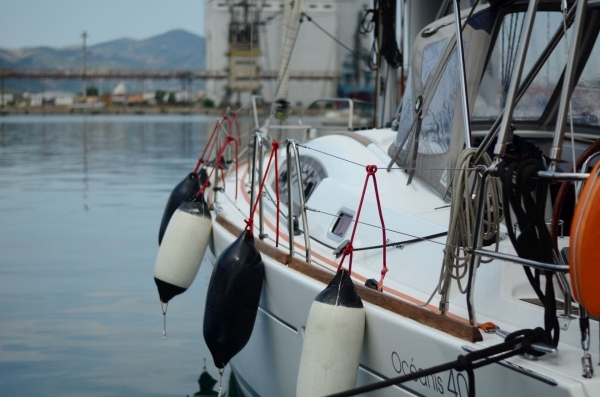 Bareboat Charter - Crew of 4 from Belgium - 1 week from Volos in September 2021
Due to Covid we had to postpone our trip several times. Philip from Mixit was always very helpful in arranging everything and giving advice for our extra insurance. In Volos we were warmly welcomed by Ria and Demitris. All formalities were correctly and pleasantly arranged. The yacht was in perfect order. The Meltimi forced us to anchor for 2 days in the small harbor of Kottes, not the best place to stay with the wind blowing right into the harbour. Fortunately the yacht was in good order and we had 100 meters of anchor chain to insure ourselves against the strong wind. The other yachts were less happy with their shorter anchor chains. Thanks to the solar panel, we also had no problems with the energy on board so that we could run the fridge. The days we sailed were great, the boat is very stable and little wind was needed to be able to sail at 5 knots. We hope to come back to sail to the Sporades in better conditions and hope we will be available to sail her again.
Notes: Thank you for this excellent review feedback. You certainly had a challenging weather week I am sorry to say but you and your crew and the yacht managed this well. In this type of situation we see the benefits of a solid not new build yacht which has been tried and tested and improved over the years. Kottes is one of my favourite places and if I was to choose to be stuck anywhere ….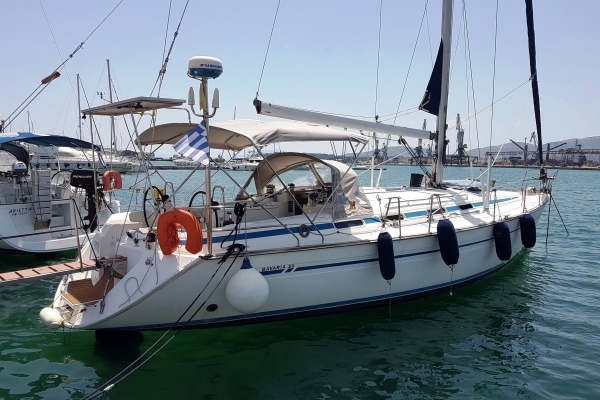 Bareboat Charter - Crew of 11 from Bulgaria - 1 week from Volos in September 2021
We are very happy with the service and positive attitude of the boat owner. We spend a week on one of their boats which we took as bareboat. It was old boat, but well kept and fully functional. Thank you!
Notes: Thank you for this review. This classic Bavaria 50 is YOB2000 and maintained in excellent order. We are glad you had a good week and looking forward to welcoming you back again soon.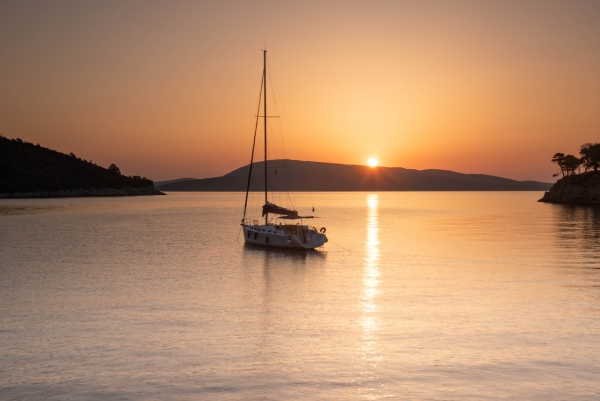 Bareboat Charter - Crew of 6 from Belgium - 1 week from Volos in August 2021
Please find enclosed some pictures of our great sailing trip. Best regards, Filip & Lieve
Notes: Thank you very much for all the pictures, I am sorry but I can only display one so I picked the sunset. I am glad you had a lovely week good weather, sunsets and Dolphin and good sailing, the scenery around the Sporades is stunning. Glad you all had a good time, I hope we can help again in the future.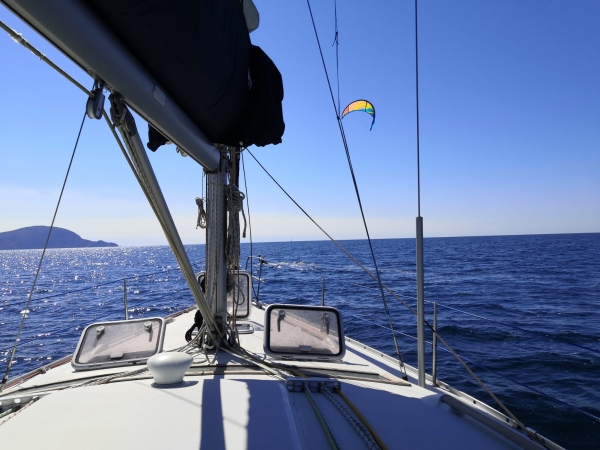 Bareboat Charter - Crew of 4 from Switzerland - 10 Days from Volos in August 2021
Due to the forest fires on Evia, we changed our plan and we cruised in the Sporades up to Kira Panagia. This yacht was perfectly corresponding with your description and our expectations : large and confortable boat well maintained, we were 4 persons aboard and it has not been necessary to refill the water during the cruise. I think that up to 6 persons, this yacht is really a good choice for cruising. Very good fridge for preparing some cold beers for the evening ;-) The welcome team: Special mention to Georgos who is a very kind person and who knows perfectly well this yacht ... in other words, check-in has been done very quickly and very efficiently. No waste of time, always there when he said and we stayed in contact by Whatsapp during the cruise. Excellent communication skills. Coming back to Volos, everything was organized : Covid tests, refueling, etc ... In two words : really nice and efficient guy !!!
Notes: Thank you for your feedback and glad you found an alternative route, maybe the Evia trip next year :-) This is an exceptional yacht for 2005 build with a good price to match and therefore, as you say, 'a good choice for cruising'. Thank you also for your kind words about the 'welcome team'.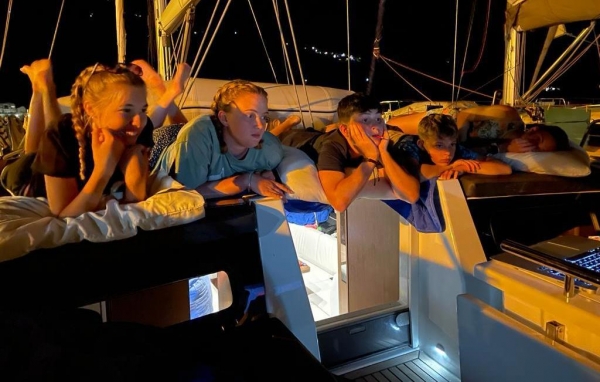 Bareboat Charter - Crew of 9 from the UK - 1 week from Volos in August 2021
Hi Phil, we had a really lovely, relaxing holiday on the Beneteau Oceanis 46 sailing around the Sporades islands. Our highlights included eating out at authentic Greek Tavernas right on the beach or on the quayside. Anchoring at different beaches everyday , where we dived or swam off the large swim platform and then a short and pleasant sail to our next destination for the evening. Here are the teenagers in our group having a movie night under the stars on a warm evening - Greek yacht style :-) We enjoyed the holiday so much that we all want to do it all again next year!
Notes: Thank you so much for this excellent review and for sure very happy to organise it again next year :-)