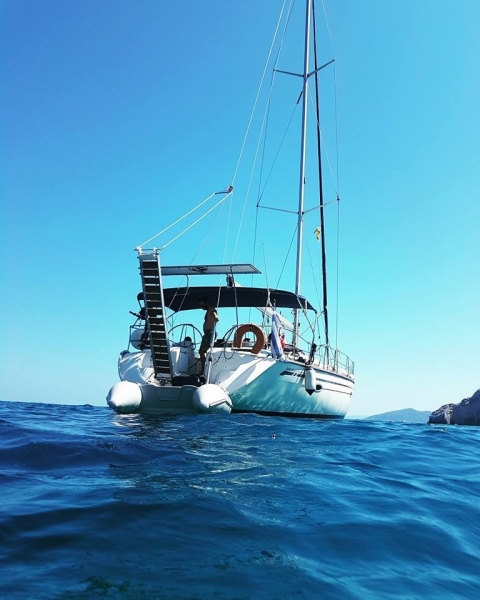 Bareboat Charter - Crew of 5 from Romania - 1 week from Volos in October 2020
We just wanted to thank you all for a great holiday in Volos-Skiathos-Skopelos area. The booking process was simple and flexible in this pandemic situation – we appreciate this… The boat was in impeccable condition and the support was superb. We've received a boat that was clean and well prepared; it was clear from the first step that Jo put some passion to maintain it to a high standard. The briefing we received was thorough and professionally delivered. During our week spent on the yacht everything worked perfectly which enabled us to have a stress-free holiday. Jo was very friendly and helpful and gave us some really good tips for route planning, weather characteristics and secluded bays. Volos Gulf and Northern Sporades area offers a lot of spots for sailing, dinning, sunbathing and swimming. We found sheltered bays, good anchorage areas, good taverns and fair winds. We had a great experience with MIXit Sailing and we highly recommend it to anyone looking for a yacht charter in the area of Northern Sporades. Thank you and hope to be back in the near future.
Notes: This review is much appreciated, especially during this difficult pandemic year and many thanks to our base manager 'Jo' in Volos, always ensuring a most professional service.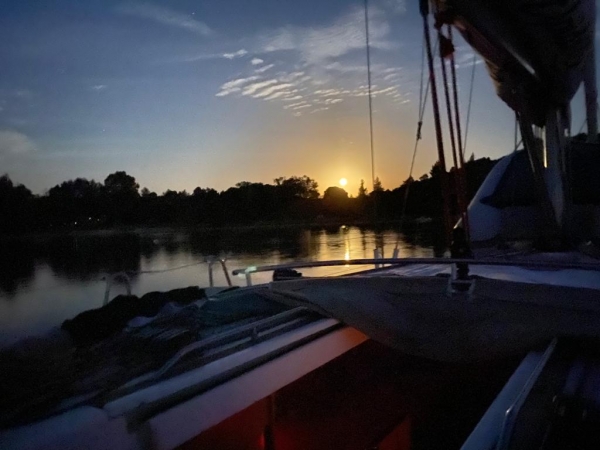 Bareboat Charter - Crew of 5 from Germany - 1 week from Nikiti Chalkidiki in September 2020
We had a wonderful holiday in a great area. Found beautiful anchorages and did enjoy the sailing and the landfalls :-) Our boat was in good shape and the guys from the base were the friendliest and most helpful ever. We will surely come back to Nikiti and great Chalkidiki.
Notes: Thank you for this excellent review of your sailing holiday from our base in Nikiti Chalkidiki. Also thank you for booking with us again, this is your third holiday with the other two from our Volos base. Nikiti or Volos we look forward to welcoming you back again.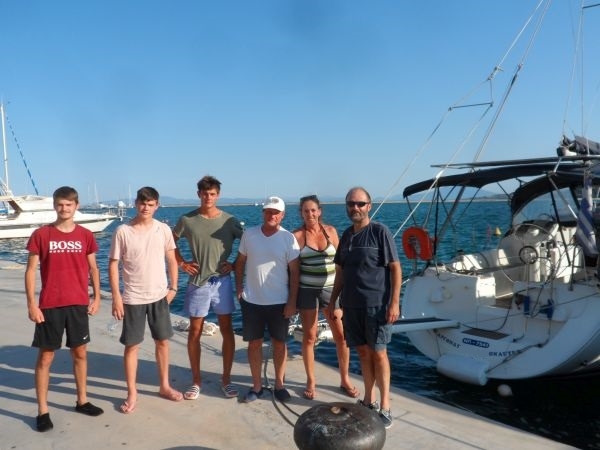 Bareboat Charter - Crew of 5 from Germany - 2 weeks from Volos in July 2020
We spent an excellent 2 weeks on the Sun Odyssey 37 starting from Volos and cruising in the Northern Sporades. Thanks to the very friendly and helpful guidance by Philip through the whole booking process and to the corona specific guidelines everything was perfect, also in difficult times. Although a model year 2001 this yacht is maintained in very good condition with some unique special features. We met the owner Kostas who personally handed over the boat to us and explained everything in detail. He took a lot of time, no questions remained unanswered, we even received weather information by text message. Good sailing with a classic mainsail with lazy jack and a rolling foresail, rigging and winches are well maintained and in good condition. Inside and outside the boat was in very good condition, a reliable outboard motor and a stable dingy big enough for 4 maybe 5. Everything worked out well, we can highly recommend the boat as well as the Charter company. We were very satisfied, this was one of our best sailing trips we had as a family of 5 (3 teenagers ... ) . Very nice trip to the islands, very quiet in corona times, only a few other boats sailing in the Pagasitikos Gulf (Gulf of Volos), stops on Euboea and then up to Pelagonisi Island - best memories of fantastic sailing holidays ! Thanks Philip and Kostas. Anne, Tom and the boys
Notes: This is a suprisingly good yacht for 2001 build, a real classic in great condition and with some useful special features as you say. Glad you all had a good time and for successfully navigating this complicated year :-)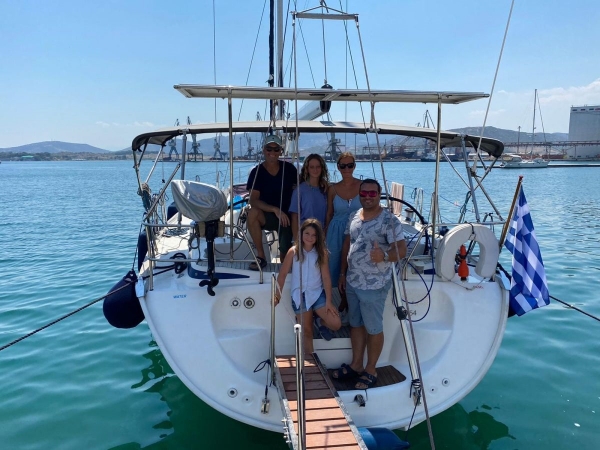 Skippered Charter - Crew of 4 from UK - 1 week from Volos in July 2020
Huge thanks to Phil at Mixit, Jo for her beautiful yacht and Panos our Skipper for a great trip around the Sporades Islands in July 2020 - we had a wonderful time.
Notes: It was a pleasure to welcome you and your family back again, this is your 4th trip so far 2016, 2017, 2018 and 2020 and we hope to see you again next year.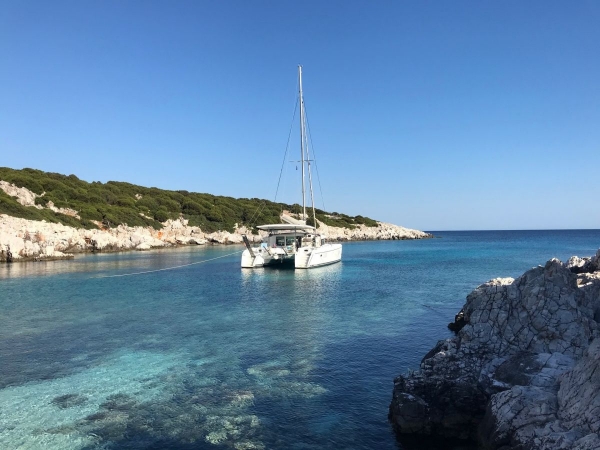 Bareboat Charter - Crew of 4 from France - 2 weeks from Nikiti Halkidiki in July 2020
"We had a wonderful two-week holiday in July discovering Halkidiki and the Northern Sporades. Saw dolphins practically every day. Skopelos and gazing at the comet under the brightest of night skies in a deserted bay off Skiropoula were particular highlights. This Lagoon 420 is a spacious and easy boat to handle. The back-up support from the team at the Nikiti base was absolutely first class. They have contacts throughout the region and were able to help us on the one or two occasions we needed advice or assistance." Many thanks Phil. These must really difficult times for anyone involved in the tourism business. But, I have a feeling that when this thing blows over or can be managed better, more people will be looking for the type of sailing adventures and personal service that you are able to offer. Best wishes, Ivan
Notes: Many thanks for your kind words much appreciated.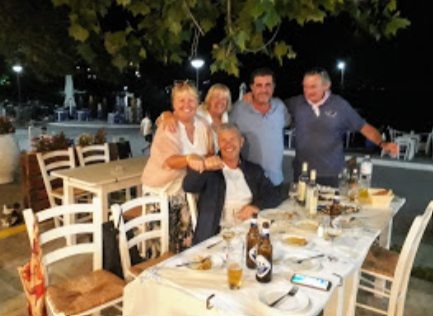 Bareboat Charter - Crew of 4 from Ireland - 1 week from Volos in July 2020
Just back from a fantastic weeks sailing out of the Port of Volos. 2 couples on a beautiful, well maintained Beneteau 393. These are perfect sailing waters for beginners and more experienced skippers. The Gulf offers a huge variety of scenic, sundrenched harbours and anchorages. The tavernas and restaurants ashore offer everything you would want and imagine in a Greek coastal setting. I cant forget the wonderful hospitality of all the Greek people we met along the way. Reminded me of friendly Irish folk back home; only with a better suntan. We flew out in July when the Covid Restrictions were still at large but not In Greece obviously. The trip was only possible given the support and work put in by Phil and the Mixit team in advance which enabled us to go ahead. Happy to say our confidence was re paid with no issues or problems what so ever encountered. Well done guys and thanks a lot. We would love to return. Regards John ...AND FROM THE CREW... I'll leave John to review the technical side of the Beneteau Oceanis but I would like to add that we were very impressed with the cleanliness of everything. Every corner was ship shape and the fruit bowl was a nice welcoming touch. Overall we found the yacht to be in mint condition, and it handled very well. Thanks a lot, Lisa
Notes: Many thanks for 'going for it' during this complex year we look forward to next time.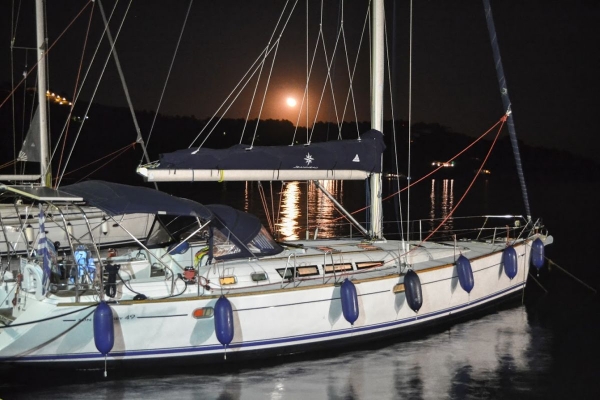 Bareboat Charter - Crew of 7 from UK - 1 week from Volos in September
"With a crew of six people we had a wonderful holiday, a yacht which is great fun to sail, under even reasonably high winds, lovely anchorages and tavernas, we are all looking forward to coming back next year!" Richard
Notes: Excellent Richard, glad you liked the yacht and had a good time, see you next year :-)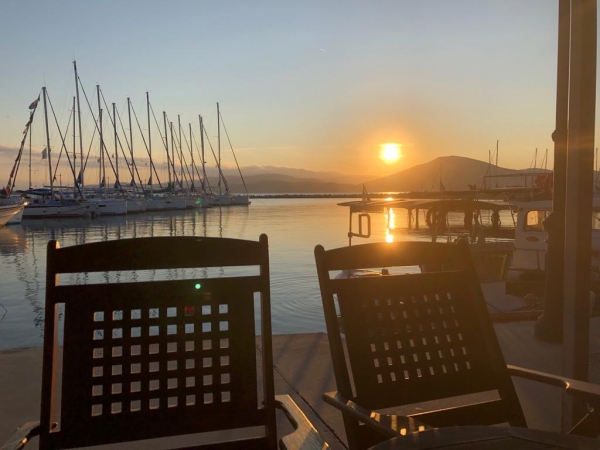 Bareboat Charter - Crew of 6 from UK - 1 week from Volos in July
We have been sailing in the Sporades now for 10 years, every year adding a few different stops but keeping to our 3 favourite moorings. We love it, the sailing is generally really good, the scenery is spectacular and the food and wine amazing. It's a challenging , fun and adventures holiday ideal for those that find laying on a beach for more than 2 minutes a total bore. The yachts we have hired have all been well maintained servised and kitted out. We have had some amazing family holiday never to be forgotten. Ian
Notes: Hi Ian and the crew, many thanks for booking with us again, see you next time :-)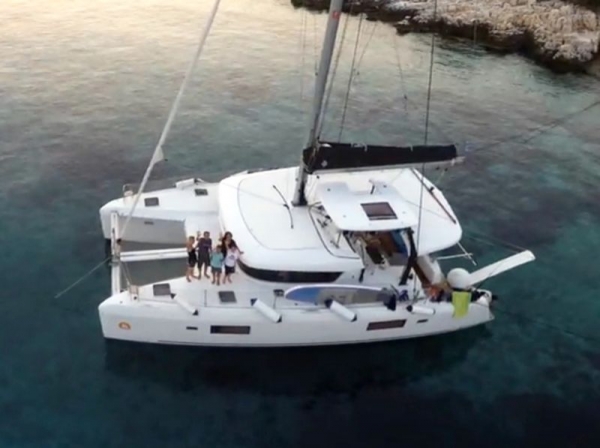 Skippered Charter - Crew of 8 from USA - 1 week from Volos in August
Hi Philip, We had a fantastic time on the boat with skipper Gianni. Everything about the week worked out well and skipper Gianni was very accommodating to our needs. This is my 5th sailing trip and the best one so far.
Notes: Glad all went well Dimitris, I hope we can welcome you back again next year :-)

Bareboat Charter - Crew of 6 from Germany - 1 week from Volos in September
"We spent a wonderful week on the Sun Odyssey 42i starting from Volos. The yacht was well equipped and provided more than enough space for the 6 of us. Everything went very smoothly – from our arrival till our (sad) departure. Thus, we were able to leave Volos early afternoon to explore the beautiful sailing area. Thanks for the great service – from choosing the right boat to waving us goodbye in Volos." Thanks for your support Philipp,
Notes: Thank you for your feedback and we hope to see you again next year.