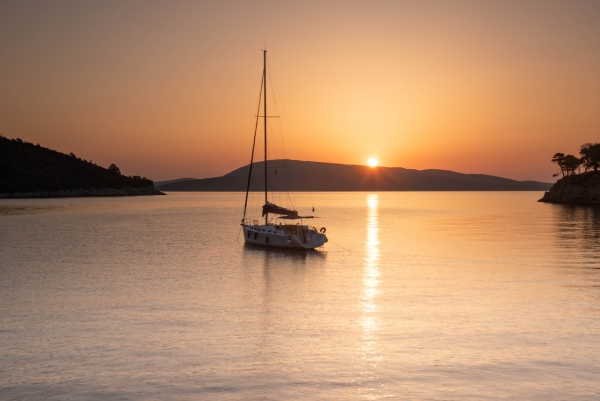 Bareboat Charter - Crew of 6 from Belgium - 1 week from Volos in August 2021
Please find enclosed some pictures of our great sailing trip. Best regards, Filip & Lieve
Notes: Thank you very much for all the pictures, I am sorry but I can only display one so I picked the sunset. I am glad you had a lovely week good weather, sunsets and Dolphin and good sailing, the scenery around the Sporades is stunning. Glad you all had a good time, I hope we can help again in the future.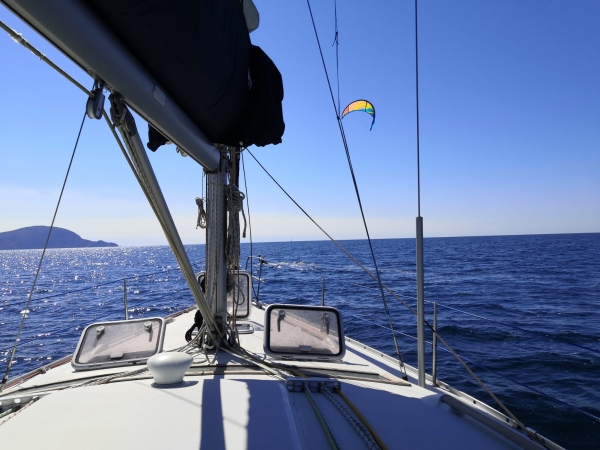 Bareboat Charter - Crew of 4 from Switzerland - 10 Days from Volos in August 2021
Due to the forest fires on Evia, we changed our plan and we cruised in the Sporades up to Kira Panagia. This yacht was perfectly corresponding with your description and our expectations : large and confortable boat well maintained, we were 4 persons aboard and it has not been necessary to refill the water during the cruise. I think that up to 6 persons, this yacht is really a good choice for cruising. Very good fridge for preparing some cold beers for the evening ;-) The welcome team: Special mention to Georgos who is a very kind person and who knows perfectly well this yacht ... in other words, check-in has been done very quickly and very efficiently. No waste of time, always there when he said and we stayed in contact by Whatsapp during the cruise. Excellent communication skills. Coming back to Volos, everything was organized : Covid tests, refueling, etc ... In two words : really nice and efficient guy !!!
Notes: Thank you for your feedback and glad you found an alternative route, maybe the Evia trip next year :-) This is an exceptional yacht for 2005 build with a good price to match and therefore, as you say, 'a good choice for cruising'. Thank you also for your kind words about the 'welcome team'.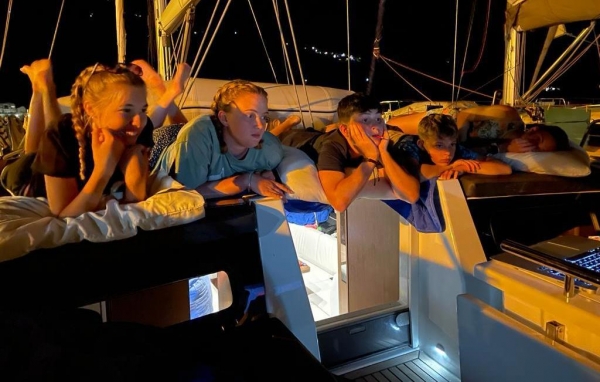 Bareboat Charter - Crew of 9 from the UK - 1 week from Volos in August 2021
Hi Phil, we had a really lovely, relaxing holiday on the Beneteau Oceanis 46 sailing around the Sporades islands. Our highlights included eating out at authentic Greek Tavernas right on the beach or on the quayside. Anchoring at different beaches everyday , where we dived or swam off the large swim platform and then a short and pleasant sail to our next destination for the evening. Here are the teenagers in our group having a movie night under the stars on a warm evening - Greek yacht style :-) We enjoyed the holiday so much that we all want to do it all again next year!
Notes: Thank you so much for this excellent review and for sure very happy to organise it again next year :-)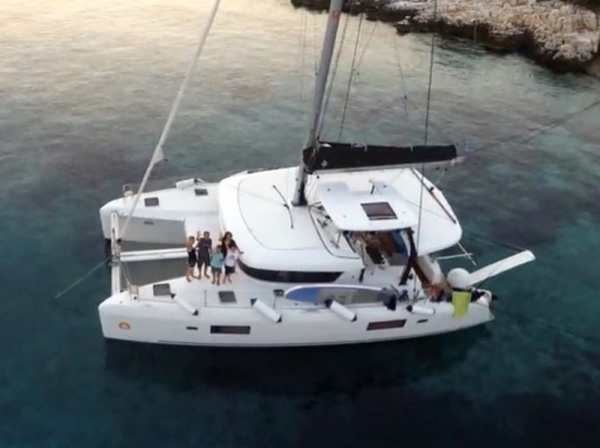 Skippered Charter - Crew of 5 from USA - 2 weeks from Volos in July/August 2021 - Ref:21051Y
Thanks for the note. We had a great time again this year although we had to deal with less than ideal waters (lots of jellyfish this year :( ) Planning to take a trip in the Ionian next year. I'll ping you if we return to the sporades the following year.
Notes: Rescheduled from 2020 to 2021 due to Covid, many thanks for coming back again for 2 weeks this time. Sorry about the Jellyfish, this does happen from time to time in certain bays. A change is always good, I hope we can welcome you back again in 2023.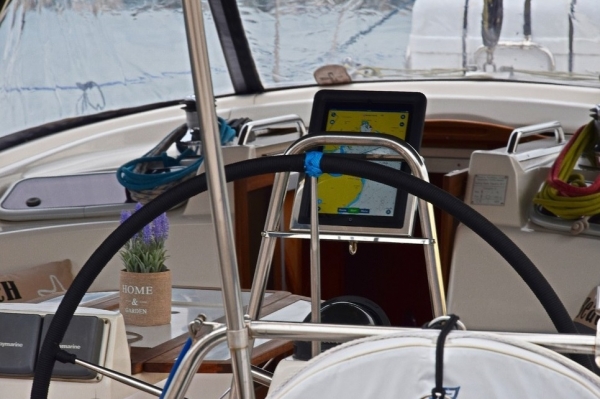 Bareboat Charter - Crew of 8 from Serbia - 1 week from Volos in July 2021
The yacht is really good, the owner - Joanna - is really kind and helpful. Everything on the boat is in really good condition, the boat itself is very fast and comfortable, we will gladly choose this boat over and over again. We did the tour around Sporades islands, and this Bavaria 46 is ideal for the trip.
Notes: Thank you very much for this review and for booking this yacht again. This is a 2007 build yacht maintained in excellent condition and once you have experienced this you know you are safe to book it again and again.

Bareboat Charter - Crew of 9 from Spain - 1 Week from Volos in July 2021 - Ref:21165Y
Mixit Sailing was the best choice when booking a charter in Sporades. Philip found us a great boat and his colleagues in Volos, Ria and Dimitris were the best team we could find. Dimitris was sailing a similar route to ours so he was around every time we needed him. They provided info on the area and a lot of good vibes. The boat was brand new and everything we could have asked for. Thanks for the trip, we will come back!
Notes: Hello Jose and the crew, thank you for this review. Glad you had a good week on our new (2021) Oceanis 46.1. You are all very welcome to come back anytime :-)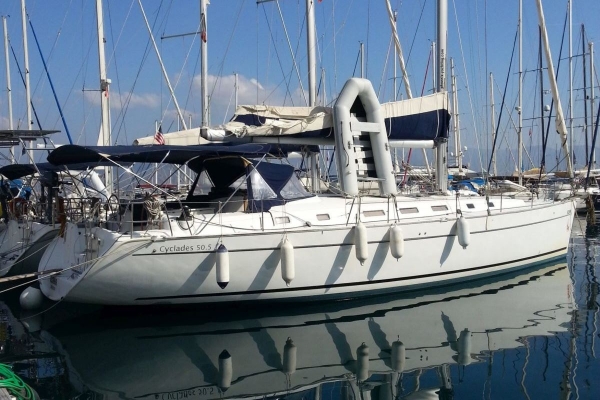 Bareboat Charter - Crew of 9 from Serbia - 1 week from Volos in July 2021 - Ref:21189Y
Hello Phil, Honestly, everything was like we imagined it. The yacht was in great condition and we had no technical issues. You and the owners have been very professional and have helped us in understanding everything about the yacht before we took off. The weather was perfect and we have visited some great locations, such as Skiathos and Skopelos, and have really enjoyed ourselves. We will surely be back next year.
Notes: Thank you very much for coming again this year, we look forward to seeing you next year :-)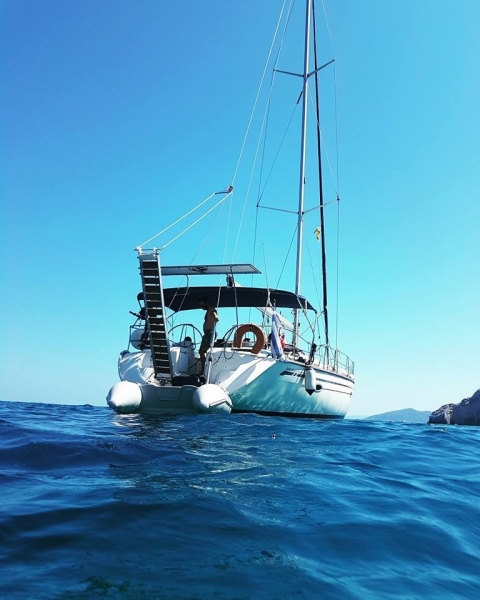 Bareboat Charter - Crew of 5 from Romania - 1 week from Volos in October 2020
We just wanted to thank you all for a great holiday in Volos-Skiathos-Skopelos area. The booking process was simple and flexible in this pandemic situation – we appreciate this… The boat was in impeccable condition and the support was superb. We've received a boat that was clean and well prepared; it was clear from the first step that Jo put some passion to maintain it to a high standard. The briefing we received was thorough and professionally delivered. During our week spent on the yacht everything worked perfectly which enabled us to have a stress-free holiday. Jo was very friendly and helpful and gave us some really good tips for route planning, weather characteristics and secluded bays. Volos Gulf and Northern Sporades area offers a lot of spots for sailing, dinning, sunbathing and swimming. We found sheltered bays, good anchorage areas, good taverns and fair winds. We had a great experience with MIXit Sailing and we highly recommend it to anyone looking for a yacht charter in the area of Northern Sporades. Thank you and hope to be back in the near future.
Notes: This review is much appreciated, especially during this difficult pandemic year and many thanks to our base manager 'Jo' in Volos, always ensuring a most professional service.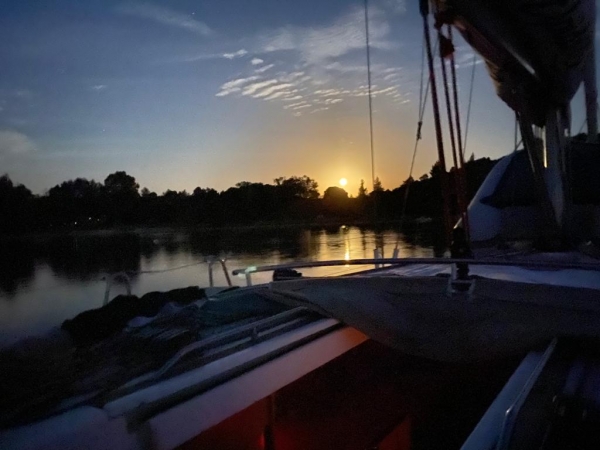 Bareboat Charter - Crew of 5 from Germany - 1 week from Nikiti Chalkidiki in September 2020
We had a wonderful holiday in a great area. Found beautiful anchorages and did enjoy the sailing and the landfalls :-) Our boat was in good shape and the guys from the base were the friendliest and most helpful ever. We will surely come back to Nikiti and great Chalkidiki.
Notes: Thank you for this excellent review of your sailing holiday from our base in Nikiti Chalkidiki. Also thank you for booking with us again, this is your third holiday with the other two from our Volos base. Nikiti or Volos we look forward to welcoming you back again.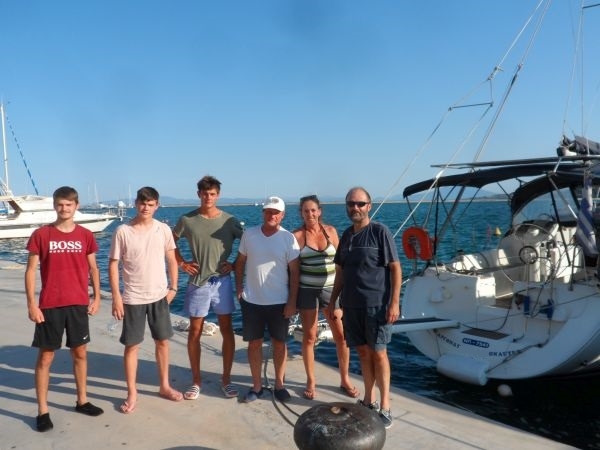 Bareboat Charter - Crew of 5 from Germany - 2 weeks from Volos in July 2020
We spent an excellent 2 weeks on the Sun Odyssey 37 starting from Volos and cruising in the Northern Sporades. Thanks to the very friendly and helpful guidance by Philip through the whole booking process and to the corona specific guidelines everything was perfect, also in difficult times. Although a model year 2001 this yacht is maintained in very good condition with some unique special features. We met the owner Kostas who personally handed over the boat to us and explained everything in detail. He took a lot of time, no questions remained unanswered, we even received weather information by text message. Good sailing with a classic mainsail with lazy jack and a rolling foresail, rigging and winches are well maintained and in good condition. Inside and outside the boat was in very good condition, a reliable outboard motor and a stable dingy big enough for 4 maybe 5. Everything worked out well, we can highly recommend the boat as well as the Charter company. We were very satisfied, this was one of our best sailing trips we had as a family of 5 (3 teenagers ... ) . Very nice trip to the islands, very quiet in corona times, only a few other boats sailing in the Pagasitikos Gulf (Gulf of Volos), stops on Euboea and then up to Pelagonisi Island - best memories of fantastic sailing holidays ! Thanks Philip and Kostas. Anne, Tom and the boys
Notes: This is a suprisingly good yacht for 2001 build, a real classic in great condition and with some useful special features as you say. Glad you all had a good time and for successfully navigating this complicated year :-)