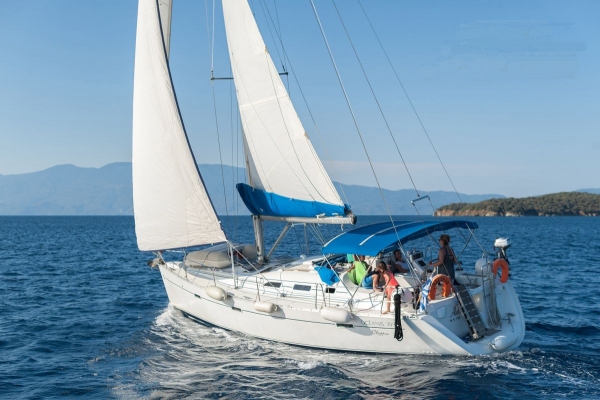 Bareboat Charter - Crew of 4 from the UK - 1 week from Volos in July
We just returned from a super holiday this Beneteau Oceanis 393, we couldn't have been more pleased with it. From the help choosing and booking the yacht and especially the welcome and introduction from George and Aris, they simply couldn't have been more helpful or pleasant to deal with. The boat is also in superb condition and maintained to a perfectionist level, I am always encouraged when I see super neat wiring and plumbing, new stopcocks, and engine which looks and sounds brand new, perfectly varnished woodwork…. This yacht was perfect for a family of two adults and teenagers to manage and a joy to sail in all winds, we would book here again without hesitation. Richard.
Notes: Hi Richard and many thanks for this excellent review, glad you had a good holiday and we look forward to seeing you next time.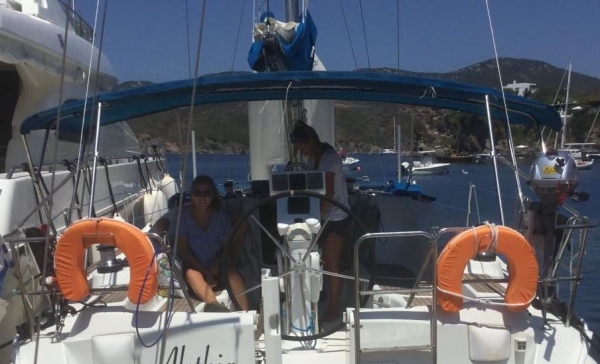 Bareboat Charter - Crew of 6 from the UK - 2 weeks from Volos in July
We had an amazing two weeks sailing out of Volos. The sailing area was fantastic - lots of different places to explore from quiet bays to lively Skiathos Town. The highlight of the holiday was sailing to Skyros where we spent two nights. It was great to go out of Volos which was very relaxing, especially compared to Athens where we have sailed for several years.The boat was great, very well equipped and perfect for the 6 of us. We will certainly be back. Thank you.
Notes: Many thanks for this lovely review Lizzie, we look forward to seeing you again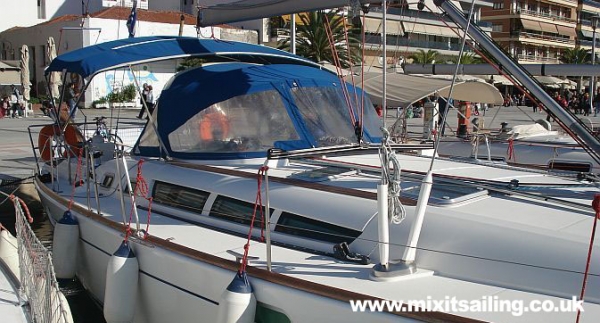 Bareboat Charter - Crew of 6 from UK - 1 week from Volos in August 2018
"We chartered the Sun Odyssey 49DS for a week and for our family of 6 it was very spacious and well equipped. She also sailed very nicely, which cannot always we said about charter boats. Phil from MiXit Sailing and the boat owner were really helpful all the way through. For example a problem that arose was whilst we were sailing was quickly sorted so that it did not impact our holiday. The sailing area was amazing and the local knowledge of the skipper on another boat in our party was invaluable. I would happily recommend both this boat and sailing area as well as MiXit Sailing."
Notes: Many thanks for this kind review James and family, glad you had a good week.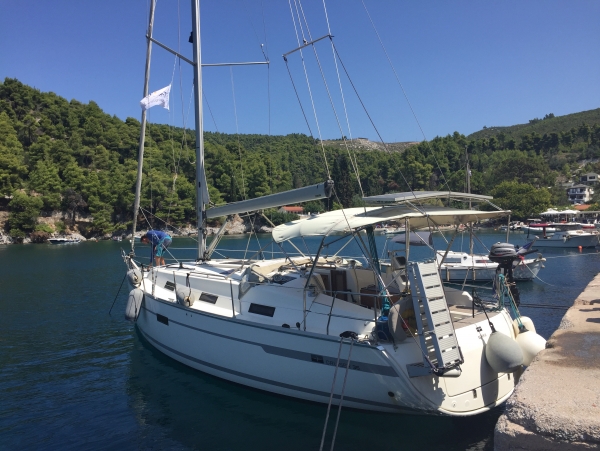 Bareboat Charter - Family of 4 from the UK - 1 week in August 2018 from Skiathos
Our family of four had a great week sailing in a Bavaria 36 around the Sporades from Skiathos Town. We headed out from Skiathos to Alonnisos and from there to the marine conservation area around Skantzoura, where we found some idyllic bays to anchor in. Even though it was the height of the season it wasn't too busy. The boat was well equipped and the sailing was great, with good winds every day. The boat was available early on our first day and everyone was helpful and friendly. We would recommend mixitsailing to anyone who wants some good sailing around some interesting islands.
Notes: Hello Marian and family, glad you all had a great time and we hope to see you back here sometime soon. Many thanks Phil.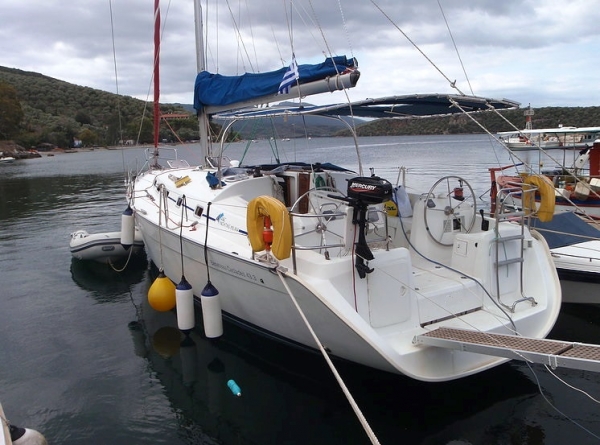 Bareboat Charter - Crew of 4 - Spanish, French & English - 10 days in June 2018 from Volos
Hi Phil! We had a very pleasant holiday on board of Cyclades 43.3 yacht around the Sporades Islands. This was our first trip after completing the Day Skipper and Competent Crew courses with Thessalia School of Sailing in Volos and we found lots of support from our teacher Carl and also from Phil and Mixit Sailing Holidays team. They reviewed our plans, advise us with tips and gave us all the confidence we needed to sail. The boat was clean and in very good condition, had a good size and all the cabins were ensuite which gave us privacy to all of us, the kitchen was equipped with all the necessary and we had meals onboard as well as out. When sailing it felt very stable although we reefed on strong winds and when there was no wind we motored which allowed us to recharge batteries. Phil from Mixit Sailing Holidays received us in Volos and the company took care of the final cleaning and fuel refilling. It was all very easy and we would recommend Mixit Sailing Holidays to anyone for renting/chartering sailing boats, Thessalia Sailing school to learn or update sailing knowledge or experience and Volos as a main point of sailing for your holidays. For sure we want to go back again! Sara, Hervé, Pete and Margaret
Notes: Many thanks for this excellent review, we look forward to seeing you all again soon.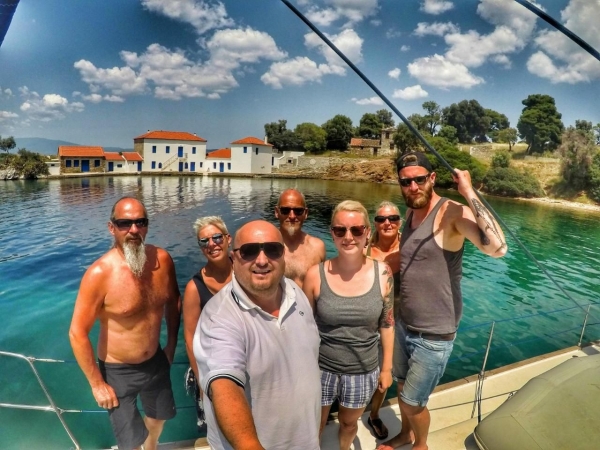 Bareboat Charter - Crew of 7 from Belgium - 1 week in May 2018 - Returning Customer
We chartered the Bavaria 46 Cruiser in May 2018, from Volos. This was the second time we chartered with MixItSailing. As always the service and contact with Phillip and his team was impeccable. The quality and condition of our 10-year old yacht was outstanding. In 25 years of chartering, all over the world, I never chartered a yacht in this superb condition. Volos is an ideal base to sail around the Magnesia-bays and to the Sporades-islands (Volos-airport is only a 20-minute taxi-ride away). We again had a wonderfull time in this sailing area, it's not overly touristy in contrast to some of the more popular Greek-sailing-areas, and it has a more laid-back atmosphere. Highlights and hints : - BBQ on the beach of Or.Peristera (Peristeri island) - Agnanti restaurant in Glossa (Skopelos) : one of the finest dining-experiences in the last 20years in Greece ! - Diavlos taverna in Palea Trikeri : delicious shrimp-spaghetti. - Stafylos taverna in Volos : wide choice and very tastefull dishes (a 5 minute walk from the quay in Volos). Again MixIt proved to be the best choice to charter a yacht in this area, Grtz from Belgium, Koen Jacobs & crew.
Notes: Thank you for this excellent review and good to see you all again.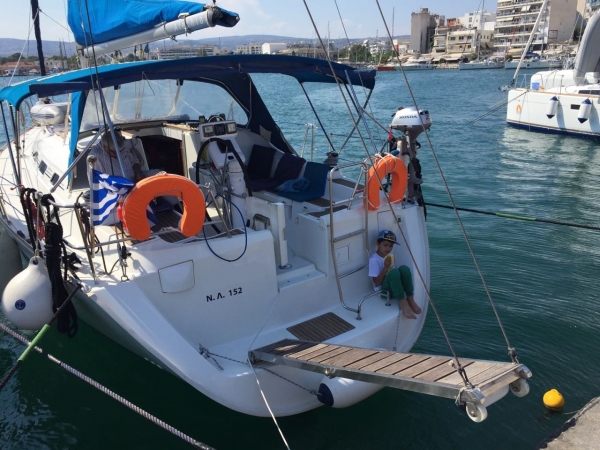 Bareboat Charter - Crew of 5 from Bulgaria - 1 week in June 2018 - Returning Customer
"As this is our second year with Mixit, we can highly recommend Phil services and attitude towards clients. Both of the boats we chartered, were in very good condition and we enjoyed very nice sailing trips. My mother even drew a picture of the Beneteau Oceanis 393 that we had in the second year. In both of the trips we had the luck to make 50+ daily miles under sails (Skopelos – Volos and Skopelos – Achileo) and we can say that everything in the rigging was perfect. Owners of the yachts, Thanasis and George, were also very friendly and shared a lot of useful information. First year we were on the Beneteau Oceanis 381. The only reason for change were 1.2 foots and limited availability of the 381"
Notes: Great to see you all again and many thanks for this excellent review, till next time :)

Bareboat Charter - Crew of 6 from Israel - 1 Week in June 2018 - Nikiti Harbour
See attached charter feedback forms
Notes: Thank you for completing the charter feedback forms. All excellent, many thanks.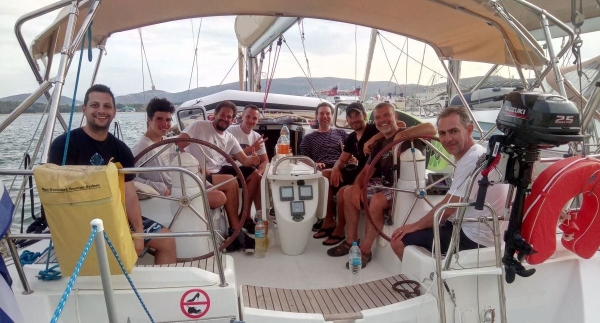 Bareboat Charter - Crew of 8 from Macedonia - 1 week in May 2018 from Volos
We had great experiance dealing with Phil from MIXit Sailing. He was frendly polite and very helpful. The boat we had Sun Odyssey 42iP was incredible. It was well maintained and it looked like new. The owner of the boat was nice and spent some time explaning all the details on the boat and the sailing area. The sails and most of the equipment on the boat were completely new and we realy had great sailing experiance. I would kindly recommend MIXit to my friends and to everyone that want flawless deals on the best sailing boats in Greece. Aleksandar
Notes: Hello Aleksandar and thank you for this excellent review, I am glad you all had a good time. Till next time and of course all your friends are very welcome.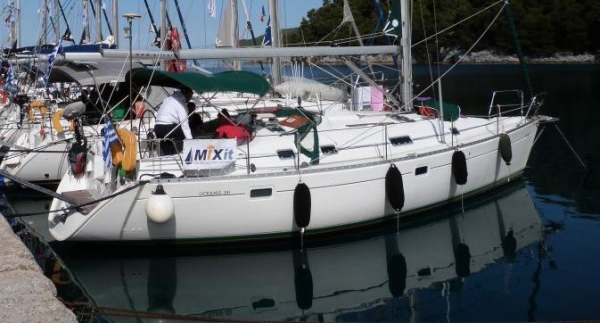 Bareboat Charter - Family from Sweden - 1 week in July from Skiathos
We can highly recommend Mixit Sailing. We got prompt and personal service. The boat we chartered was the Beneteau 381. It is somewhat older than what we would have preferred when we booked it, but we were surprised of how well maintained it was, everything in good condition.