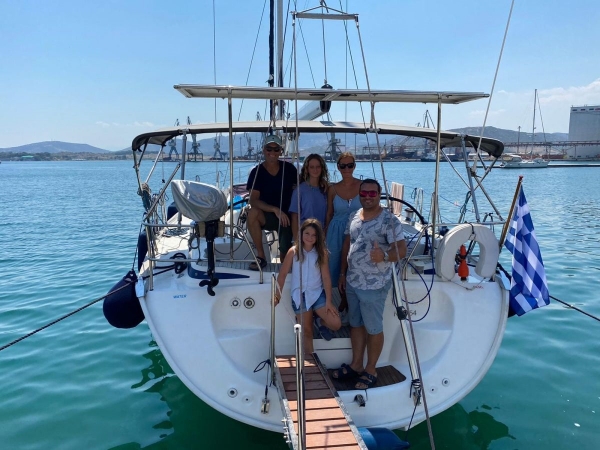 Skippered Charter - Crew of 4 from UK - 1 week from Volos in July 2020
Huge thanks to Phil at Mixit, Jo for her beautiful yacht and Panos our Skipper for a great trip around the Sporades Islands in July 2020 - we had a wonderful time.
Notes: It was a pleasure to welcome you and your family back again, this is your 4th trip so far 2016, 2017, 2018 and 2020 and we hope to see you again next year.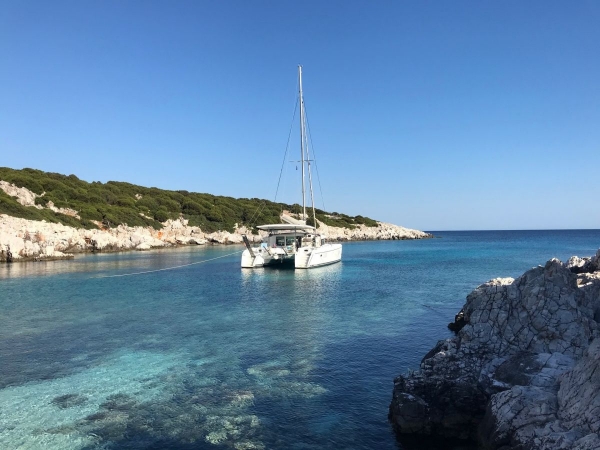 Bareboat Charter - Crew of 4 from France - 2 weeks from Nikiti Halkidiki in July 2020
"We had a wonderful two-week holiday in July discovering Halkidiki and the Northern Sporades. Saw dolphins practically every day. Skopelos and gazing at the comet under the brightest of night skies in a deserted bay off Skiropoula were particular highlights. This Lagoon 420 is a spacious and easy boat to handle. The back-up support from the team at the Nikiti base was absolutely first class. They have contacts throughout the region and were able to help us on the one or two occasions we needed advice or assistance." Many thanks Phil. These must really difficult times for anyone involved in the tourism business. But, I have a feeling that when this thing blows over or can be managed better, more people will be looking for the type of sailing adventures and personal service that you are able to offer. Best wishes, Ivan
Notes: Many thanks for your kind words much appreciated.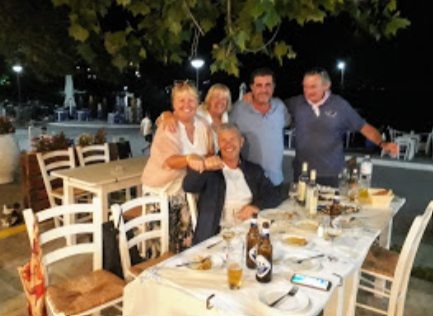 Bareboat Charter - Crew of 4 from Ireland - 1 week from Volos in July 2020
Just back from a fantastic weeks sailing out of the Port of Volos. 2 couples on a beautiful, well maintained Beneteau 393. These are perfect sailing waters for beginners and more experienced skippers. The Gulf offers a huge variety of scenic, sundrenched harbours and anchorages. The tavernas and restaurants ashore offer everything you would want and imagine in a Greek coastal setting. I cant forget the wonderful hospitality of all the Greek people we met along the way. Reminded me of friendly Irish folk back home; only with a better suntan. We flew out in July when the Covid Restrictions were still at large but not In Greece obviously. The trip was only possible given the support and work put in by Phil and the Mixit team in advance which enabled us to go ahead. Happy to say our confidence was re paid with no issues or problems what so ever encountered. Well done guys and thanks a lot. We would love to return. Regards John ...AND FROM THE CREW... I'll leave John to review the technical side of the Beneteau Oceanis but I would like to add that we were very impressed with the cleanliness of everything. Every corner was ship shape and the fruit bowl was a nice welcoming touch. Overall we found the yacht to be in mint condition, and it handled very well. Thanks a lot, Lisa
Notes: Many thanks for 'going for it' during this complex year we look forward to next time.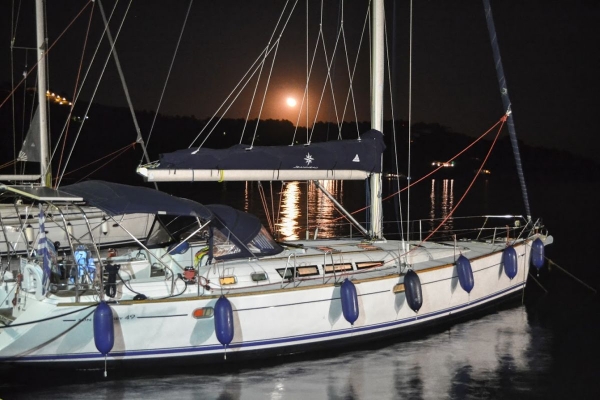 Bareboat Charter - Crew of 7 from UK - 1 week from Volos in September
"With a crew of six people we had a wonderful holiday, a yacht which is great fun to sail, under even reasonably high winds, lovely anchorages and tavernas, we are all looking forward to coming back next year!" Richard
Notes: Excellent Richard, glad you liked the yacht and had a good time, see you next year :-)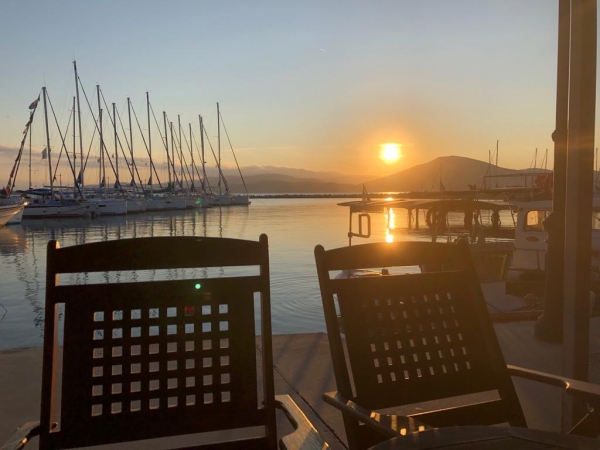 Bareboat Charter - Crew of 6 from UK - 1 week from Volos in July
We have been sailing in the Sporades now for 10 years, every year adding a few different stops but keeping to our 3 favourite moorings. We love it, the sailing is generally really good, the scenery is spectacular and the food and wine amazing. It's a challenging , fun and adventures holiday ideal for those that find laying on a beach for more than 2 minutes a total bore. The yachts we have hired have all been well maintained servised and kitted out. We have had some amazing family holiday never to be forgotten. Ian
Notes: Hi Ian and the crew, many thanks for booking with us again, see you next time :-)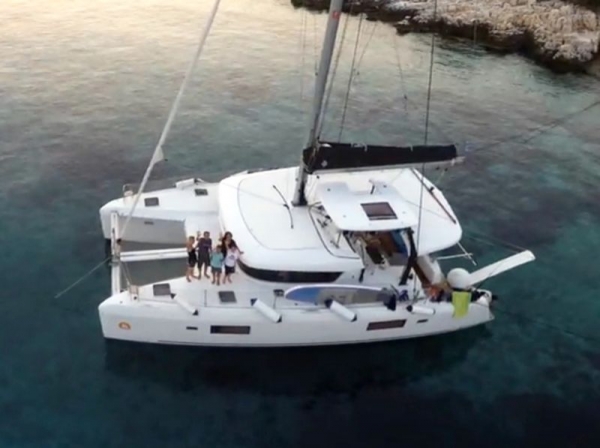 Skippered Charter - Crew of 8 from USA - 1 week from Volos in August
Hi Philip, We had a fantastic time on the boat with skipper Gianni. Everything about the week worked out well and skipper Gianni was very accommodating to our needs. This is my 5th sailing trip and the best one so far.
Notes: Glad all went well Dimitris, I hope we can welcome you back again next year :-)

Bareboat Charter - Crew of 6 from Germany - 1 week from Volos in September
"We spent a wonderful week on the Sun Odyssey 42i starting from Volos. The yacht was well equipped and provided more than enough space for the 6 of us. Everything went very smoothly – from our arrival till our (sad) departure. Thus, we were able to leave Volos early afternoon to explore the beautiful sailing area. Thanks for the great service – from choosing the right boat to waving us goodbye in Volos." Thanks for your support Philipp,
Notes: Thank you for your feedback and we hope to see you again next year.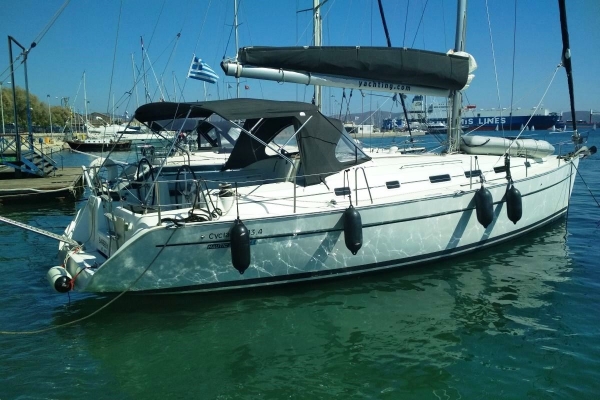 Bareboat Charter - Crew of 4 from Sweden - 1 week from Volos in Sep/Oct
Tanks a lot MixitSailing and George in Volos for a nice week in the Nothern Sporades island group. Our boat a Beneteau 43,4 Cycades was in good condition and worked nice. Possibly the service battery needed to be replaced to next season, but it is now reported and I am sure it will be fixed .We are especially satisfied with the communication with MixitSailing with promt answers to our questions. It was not obvious for us to use an English agent because we are 4 swedes but it worked better than expected.// Bo and friends
Notes: Hello Bo and friends. We are glad your late season booking went well, it is still summer in October!
For sure the batteries will be replaces for next season, thanks for the feedback.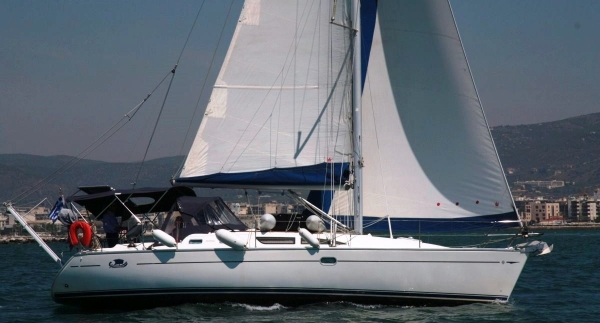 Bareboat Charter - Crew of 2 from UK - 1 week from Volos in September
After many years of sailing and with a few thousand sea miles under our belts, we felt we needed to 'cut the umbilica' and to experience sailing as a couple without any accompanying friends. Up until now, the vast majority of our sailing has been with friends in the tidal waters of Scotland. Choosing the charter company took us some time but MixIt proved to be an excellent choice. Booking was relatively straightforward with everything done on-line and via e-mail with Phil Elliott at MixIt. We hadn't had a proper break for ages so we were really looking forward to the trip, but also with some trepidation as it was to be our first time 'alone'. We shouldn't have worried at all. Our yacht was the Sun Odyssey 37 and her owners Kostas and Nellie were wonderfully welcoming, generous with their help and provided a full and practical briefing on their boat. We set off on a bright, sunny, mid-September afternoon; we motored out of Volos and, on a freshening breeze, set full sail across the Pagasitic gulf. We aren't used to sailing 21st century yachts. In Scotland, getting the main up and reefing involve going forward, being bounced around by wind and waves and doing everything from the mast. The rig on the Sun Odyssey 37 was well-designed, controlled from the cock-pit and so easy to use! Main and Genoa were out and set for course within a couple of minutes and the yacht handled really well and got in the groove quickly. The wind increased steadily knot by knot and, at 21kts of wind, we decided a reef would be sensible as the white horses galloped by while we were on a beat to windward. Reefing was a 'breeze', all managed from the cock-pit and with outhaul and reefing lines linked as one. Our sailing in Scotland almost always involves going alongside or occasionally anchoring. Med sailing is much more about anchoring, often with long-lines ashore, and going stern-to on the town quays. We quickly worked out effective procedures to enable the two of us to manoeuvre the yacht for mooring. Working as a pair, we were always grateful to others for helping take stern lines for us, but with such a well-appointed yacht we felt in control all the time. We had some fantastic sails during our week's holiday and the usual stresses we've experienced such as having limited power for fridges and lights didn't surface. The boat's excellent appointment is evidence that Kostas has thought carefully about all the practicalities of being at sea and the comfort of the crew. There was a wealth of batteries and a highly effective solar panel which meant the fridge was on all the time plus there were lots of other simple but practical modifications which made the whole experience just wonderful. Over the years we've sailed with friends in the Sporades and out of Preveza in the Ionian and, although we've had some fantastic times with great friends, this Sun Odyssey 37 has proved to be our favourite yacht. So our thanks go to Phil and MixIt but more especially to Kostas and Nellie for allowing us to experience sailing this yacht!
Notes: Dear Alan and Teresa thank you so much for this comprehensive review. This Sun Odyssey 37 is quite special!

Bareboat Charter - Crew of 6 from France - 1 week from Volos in August
Hello Philip, We spent one week on this Sun Odyssey 37, a very well equipped and clean yacht. All the family enjoy sailing from Volos to the Sporades with nice mooring recommendations from Kostas. Taking a reef in the mainsail is easy from the rear side and a "patented" management system for the anchor chain make the life easier. Everything works well and we had no trouble at all. Rental contract and follow up run smoothly with Philip. I can only recommend this yacht and company! Kind regards, Gerald
Notes: This yacht is a true classic, a 2001 build maintained in excellent condition. Glad you had a good time and we hope to see you again next year.